BenJamN Vincent
BenJamN
You can find me in my studio working on illustrations, storyboards, caricatures, or book illustrations from early in the morning to late in the evening. Even though these days I do much of my work on the computer, part of my studio is set up for working with traditional mediums so I can sketch or paint in oil, acrylic, or watercolor. I grew up in a creative household: my mother was an art teacher, and my father was an electrical engineer and inventor. While I was still in high school, I started drawing caricatures at Six Flags. It was a formative experience to be working and playing with artist-friends Bob Camp, Vincent Waller, and Greg McCullough, and we learned a lot from one another about art and life. Later I traveled across the country sketching at fairs, drawing portraits or caricatures. I spent some time living in Paris, traveling and studying art across Europe and spent a winter on a kibbutz in Israel. I received a BFA in illustration from Art Center College of Design in Pasadena California, returned to Dallas, and began working for newspapers, magazines, advertising agencies, and sketching at private and corporate events.
As a young man, I spent a few summers as an artist on the San Antonio Riverwalk and that's where I first met my wife, Shelby, or more accurately: I saw a cute girl with freckles being sketched in pastel by a fellow street artist. We discovered this encounter years later after we met again in a French class at SMU. Shelby's creative endeavors include translating literature and working at the University Texas at Dallas. We enjoy spending time together at home with our cats, hiking hills with our dog, cooking, playing ping-pong, and traveling.
Storyboards, Animatics and Comps
In my work with storyboards, animatics, and comps, I bring ideas and concepts to life in a visual format, working from conception to realization, from pitch to production. I've done storyboards for film and screen, concept artwork, and animation. Drawing quickly comes naturally from my early experience of sketching portraits and doing courtroom drawings for television and newspaper. When I work with creatives in business and advertising, we discuss the best style for the sketch, and I create the artwork that tells a story and conveys a feeling based on the client's timeline. With just a script we can talk through the images and camera angles for each shot, develop the direction, and rough out a pencil sketch. I share a studio with a few other artists so we can work together to meet the deadline of quick-turn projects. Most all the drawing and coloring is done directly on the computer so it can easily be shared digitally.

Digital Caricatures Virtual or Finished art
I've been working with various digital drawing surfaces and tablets for over twenty years. The iPad, computer tablets, and a 26" Wacom screen makes it possible for me to draw digital caricatures in person, Zoom virtually to anywhere in the world, or complete finish art from the studio. The computer has provided a fun area of growth that is always expanding with programs and tools.
I am happy to oblige client requests for everything from quick sketches to finished art. I enjoy capturing a likeness and can do so quickly because after so many years of drawing in sketchbooks, drawing caricatures, and advertising jobs with tight deadlines.
Of course, I still draw on paper and offer many other services.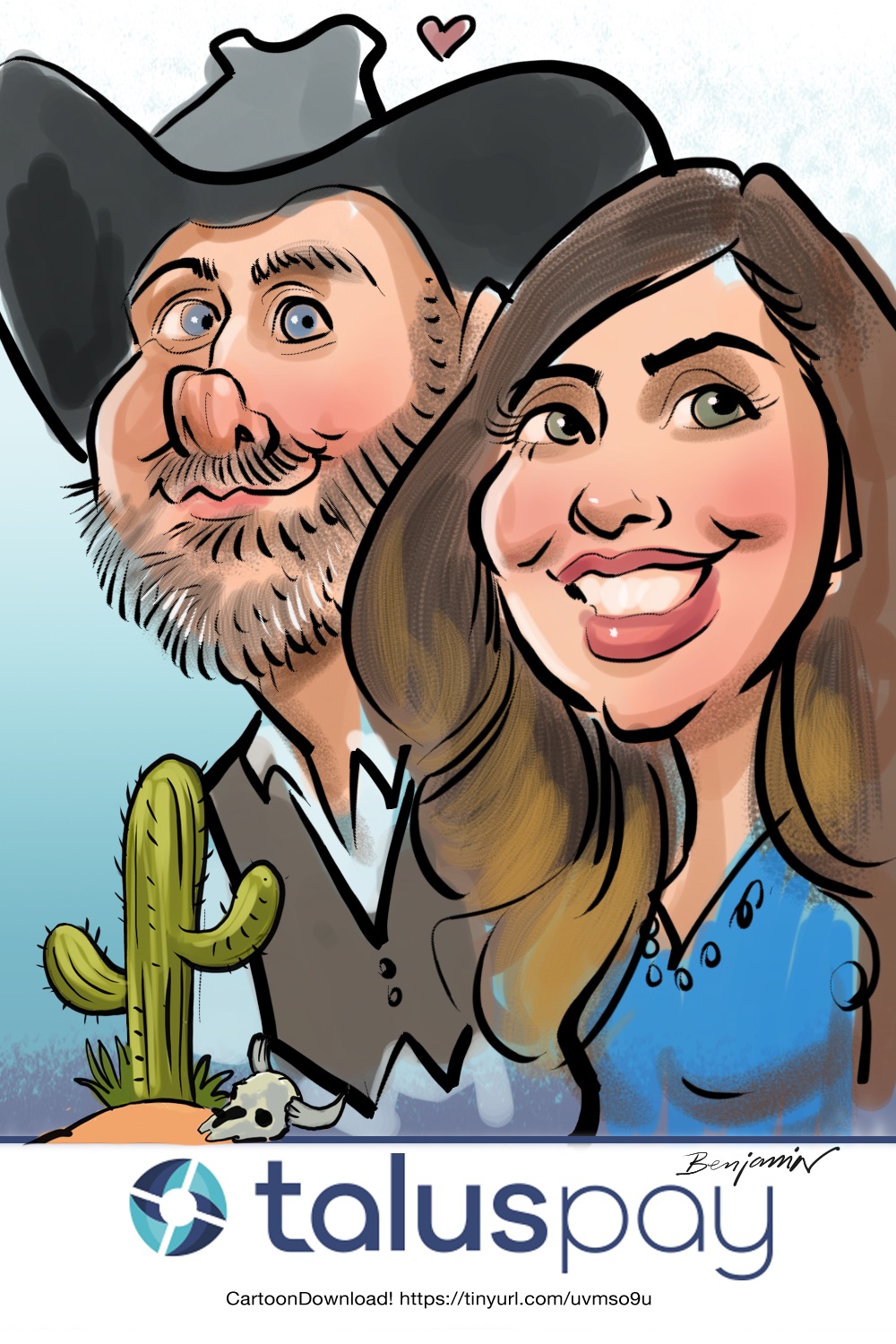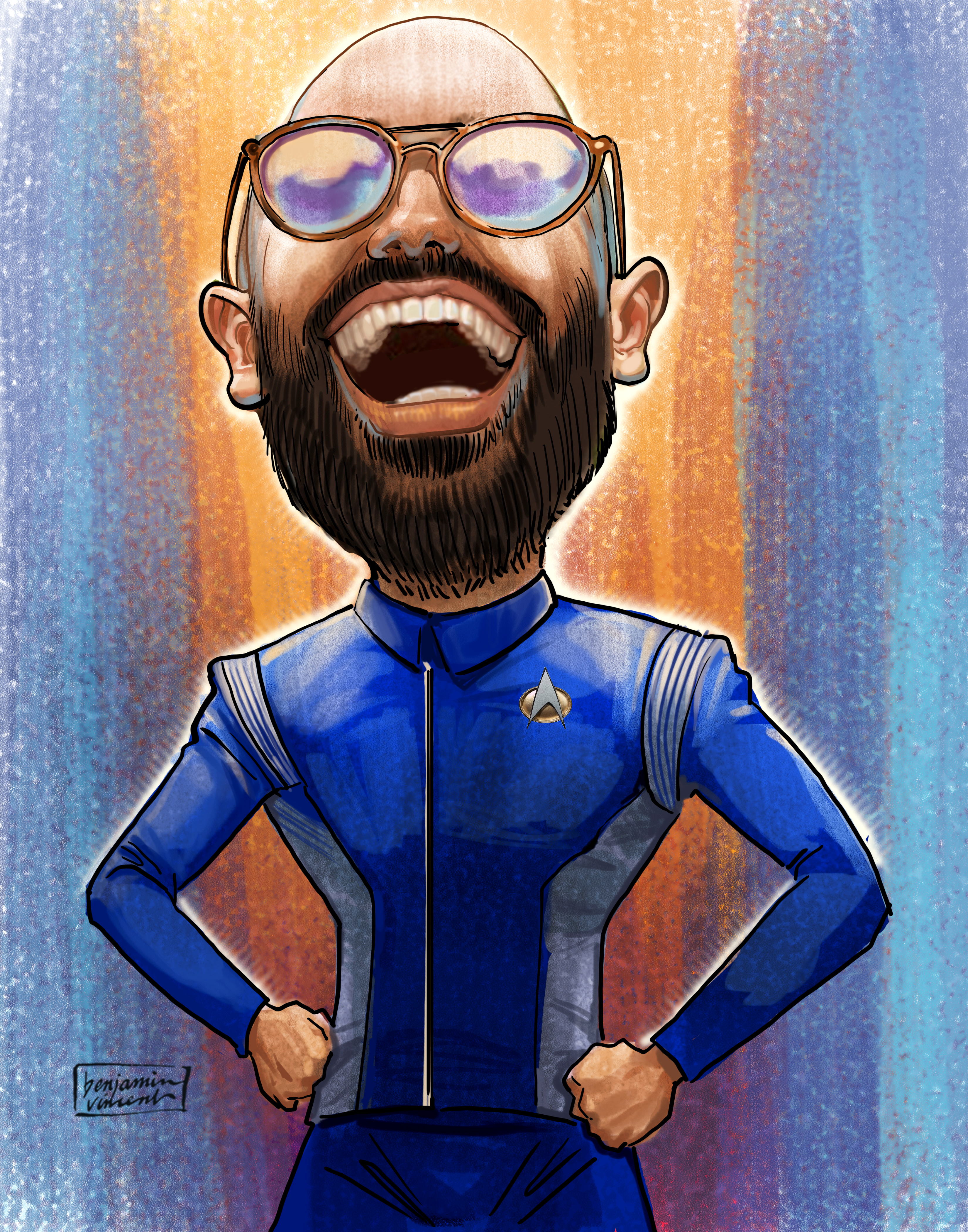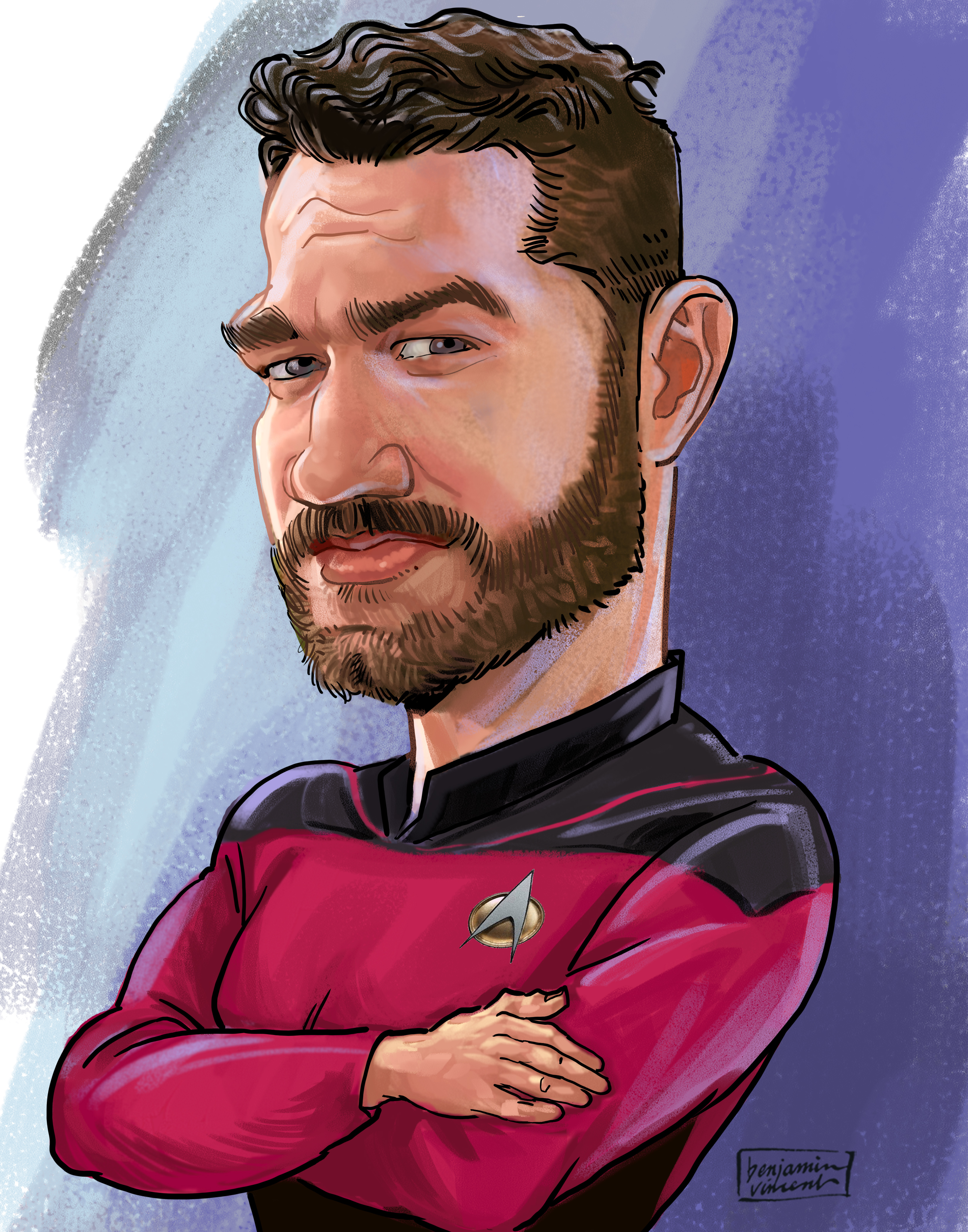 Humorous Illustration -
I began painting humorous cartoons and caricatures for the Dallas Times Herald with wonderful art direction by the artist James Noel Smith, who I will always appreciate for giving me the opportunity to get established. I continued working with magazines, drawing humorous and editorial illustrations. Most projects begin with a pencil sketch and a discussion of the desired feeling. Editorial art also demands a quick turnaround, sometimes just one day. Painting on the computer allows me to quickly and easily share the art with the client during each step of the process.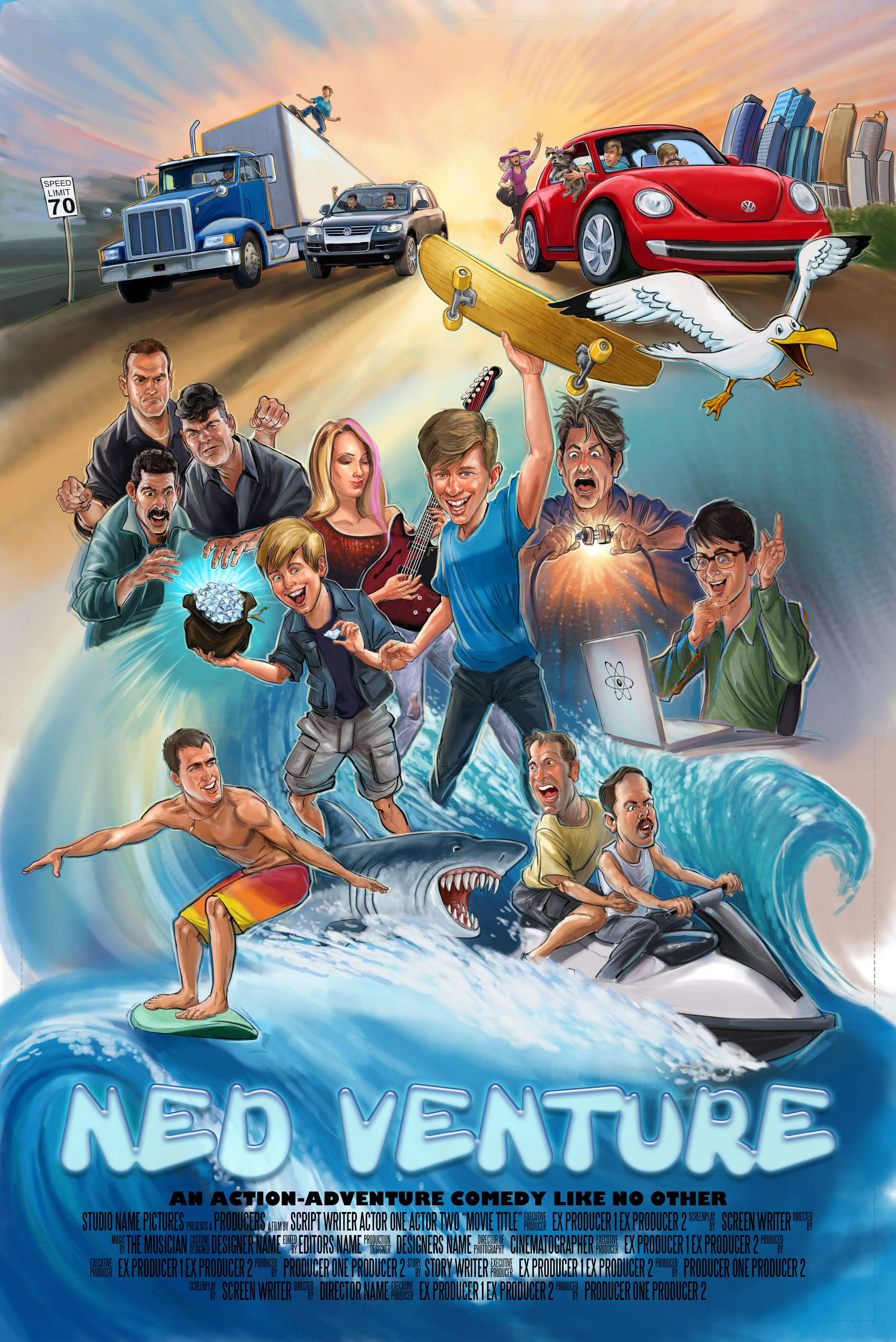 Book Illustration
I've been illustrating the Bluebonnet the Armadillo series for about 30 years. Each book begins with a storyboard page layout to account for all the text and pages needed. Most children's books are illustrated as spreads that leave room around the illustration for the words that tell the story, and this arrangement will vary from page to page. I enjoy creating the art that helps tell the story through images.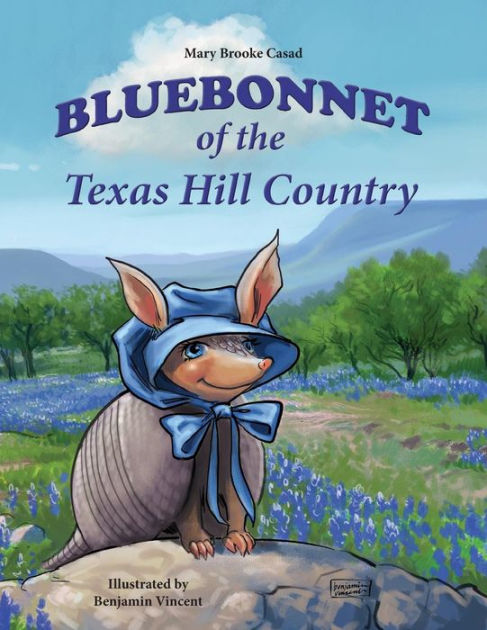 Humorous Gift & Corporate Caricatures
Many companies hire me to draw caricatures of senior leadership or of employees to be displayed in the office or to be given as retirement gifts. Among the companies I've worked with are Southwest Airlines, Toyota, Denny's, DeGolyer and MacNaughton, Frito Lay, and Pepsico. These drawings always bring out the best of the person in both a humorous and complimentary way.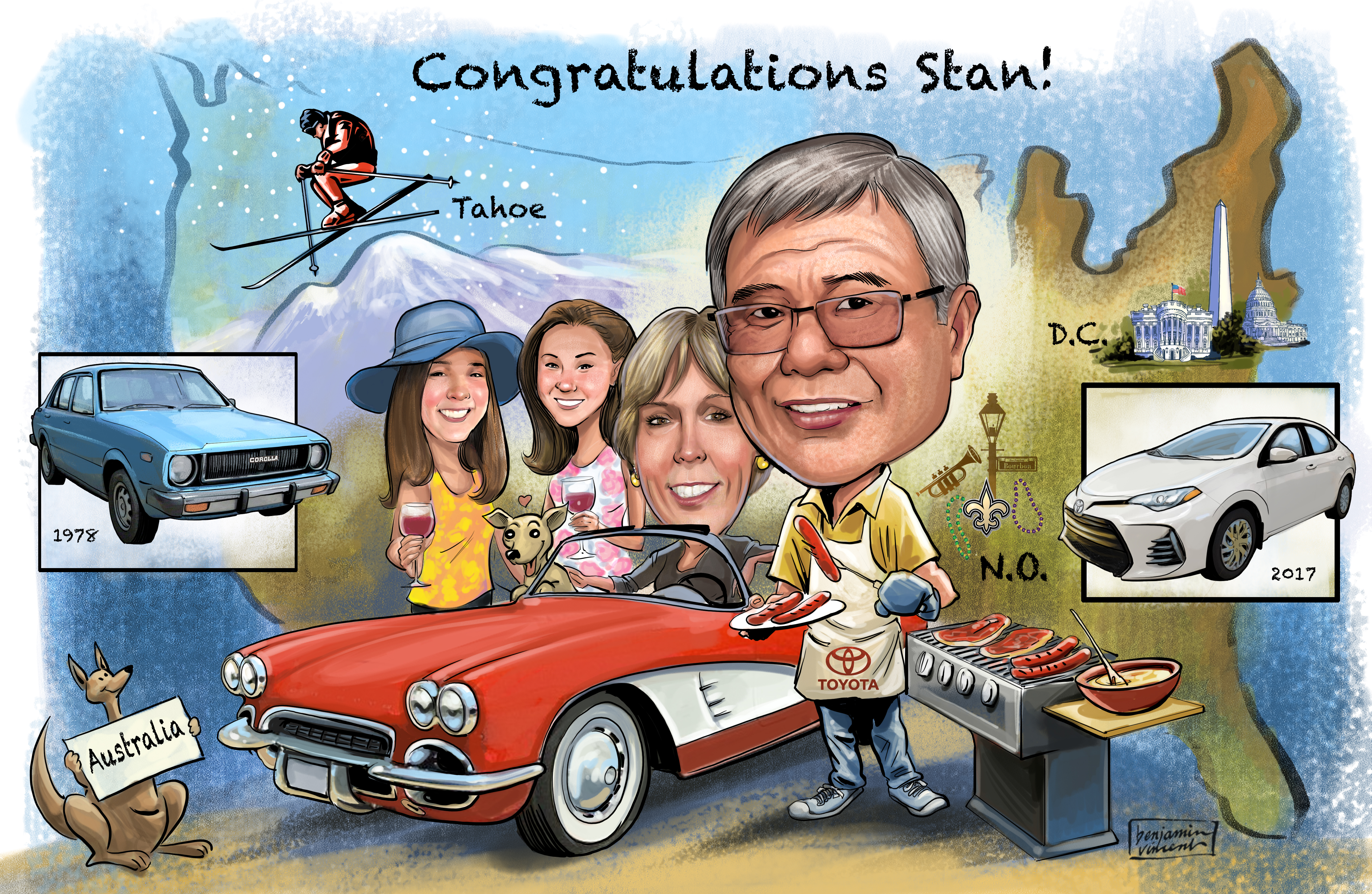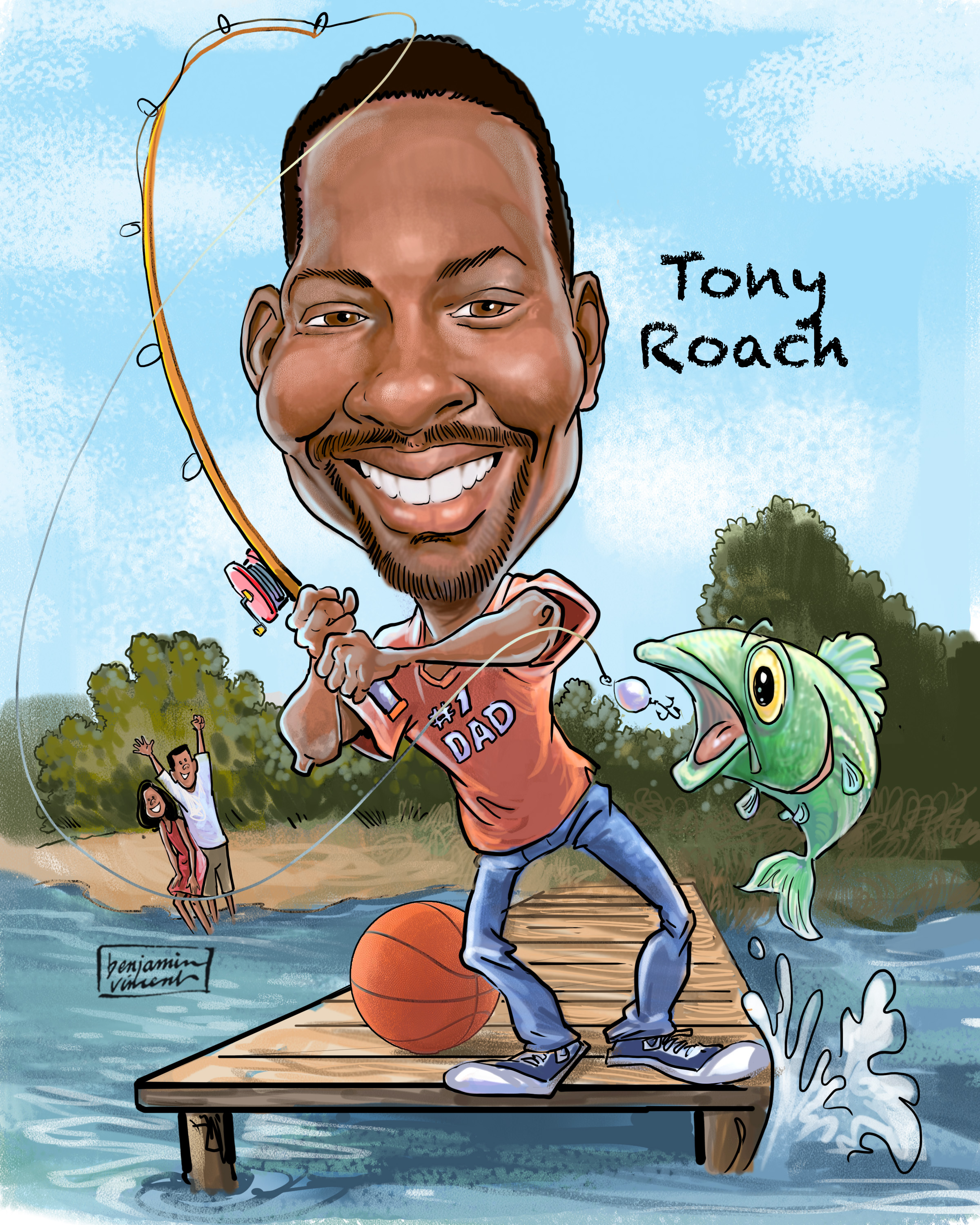 Vision Artist/Artist Scribe
I have worked at locations across the country and the world to engage participants in contributing to the creation of art that illustrates their business and values. The work involves taking their ideas and simplifying them into visual images that tell their story. I've had years of experience working with Ford Motor Company, Ford Credit, Banc One, Mercedes Benz, Regeneration Partners, Visa, Shelton School, All My Sons Moving and Storage.